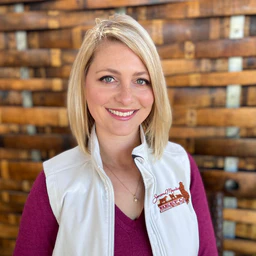 About Us
Sonoma Mountain Beef Co. was born out of founder Jamie Mickelson's passion to offer high quality, humanely raised, locally processed, delicious beef products.

Since she was 9 years old, Jamie Mickelson has been raising and caring for beef stock. A small 4-H project raising market beef launched her successful career as a Future Farmer of America and propelled her to graduate with a Masters in Ag Business at Cal Poly.

While at Cal Poly, Jamie was selected to help manage the university's cattle herd and feed lot operation as well as teach beef husbandry to underclassmen. Jamie completed her thesis in meat marketing and successfully graduated with her Masters in Ag Business in June 2014.

After graduation Jamie moved back to Sonoma County and knew the timing was right for her to expand her family's beef business and develop her own branded beef enterprise.